Temporary Visas
How can you obtain a temporary visa to visit, study or work in the United States?
If you want to travel to the U.S., chances are that you do not need to hire an immigration attorney in order to do so.  However, if you want to work in the U.S., scheduling a consultation with an experienced immigration attorney is highly recommended.
Our law firm specializes in obtaining work visas and changes of status for professionals and investors. We have successfully obtained temporary visas for thousands of E-1 treaty traders, E-2 treaty investors, H-1B professionals, J-1 trainees, L-1 intracompany managers and executives, O-1 persons of extraordinary ability, P-1 athletes and entertainers and R-1 religious workers.
We represent over 100 employers and thousands of computer professionals, physicians, accountants, engineers, scientists, health care professionals including registered nurses across the U.S.
This page contains a number of articles and links explaining the various types of temporary visas. It explains the difference between a "visa" and a "status". We explain the procedure for obtaining a visa abroad as well as the process of applying for an extension of stay or a change of status in the U.S.  We link to the online visa appointment system for U.S. Consulates in Canada and Mexico.
We explain the most common temporary or "non-immigrant" visa categories, in alphabetical order from "A" to "U".
"I endorse this lawyer's work. Carl is a leader in the field of immigration law who serves as a mentor and role model to other immigration lawyers around the United States. I consider his monthly newsletter to be required reading. His firm is capable of handling all types of U.S. immigration cases, and he treats his clients with respect, warmth and humility." (More attorney endorsements…)
- Scott Pollock, Immigration Attorney, Chicago, IL
How to Obtain a Temporary Visa is divided into the following subtopics:
SUCCESS STORIES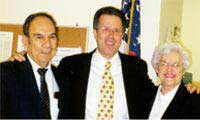 GENERAL INFORMATION
CATEGORIES OF TEMPORARY VISAS
APPLYING FOR A TEMPORARY VISA
IN CANADA OR MEXICO
HUMANITARIAN PAROLE
I-94 Arrival/Departure Record