U.S. IMMIGRATION GUIDE
FOR REGISTERED NURSES
Our law firm has immigrated more registered nurses (over 10,000) to the United States than any other law firm in the country. We hope that this page demystifies the process of immigration for nurses, their employers and nurse recruiters.
We provide numerous articles and links which explain how to submit a visa petition to employ a foreign-born registered nurse, discuss the often-confusing "VisaScreen" requirements which include credentialing and English-language proficiency, and enable readers to contact nurse licensing boards.

"I needed a law office to help me obtain my green card visa to be able to work as an RN in the US. The paralegal assigned to me was Ana Cruz who has been really helpful every step of the way. I was able to get my green card in less than six months after my hospital filed for petition. I am forever grateful for all the assistance." (More client reviews…)
Immigration for Registered Nurses is divided into the following subtopics:
Related Pages:
SUCCESS STORIES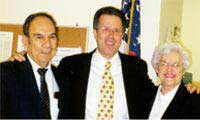 AN IMMIGRATION GUIDE FOR REGISTERED NURSES AND THEIR EMPLOYERS
NURSING ORGANIZATIONS