J-1 WAIVERS FOR PHYSICIANS
International Medical Graduates (IMGs) must pass the the U.S. Medical Licensing Examination (USMLE), complete a medical residency in the U.S. and become licensed in a particular state in order to qualify to practice medicine in the United States.  Often, IMGs obtain J-1 visas to come to the U.S. to do their residencies and fellowships.  If so, they are compelled to return to their countries for a minimum of two years once their training is complete.
Most physicians obtain J waivers by being sponsored by an Interested Government Agency (IGA), either a state Conrad 30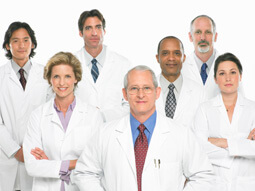 program or a Federal agency.  A smaller number of J waivers for physicians are obtained if it can be shown that the physician would be persecuted if he had to return to his home country or that his spouse and children (U.S. citizen or lawful permanent residents) would suffer "exceptional hardship" if the physician were forced to return home.
This page explains the procedures by which doctors can obtain waivers of the two-year home residency requirement.

"I've had a decade of experience with Mr. Shusterman's law firm. I used them for my immigration needs from H1 to citizenship. It is safe to say this is one of the most competent, professional and knowledgeable law firms. If there is a firm that can handle any possible immigration case routine or otherwise; then this is it." (More client reviews…)
J-1 Waivers For Physicians is divided into the following subtopics:
J WAIVERS FOR PHYSICIANS
EXCEPTIONAL HARDSHIP WAIVERS
CONRAD STATE 30 PROGRAMS
Each state has the ability to sponsor up to 30 physicians each year for J waivers. Almost all states sponsor primary care physicians, and a rapidly increasing number of states sponsor specialists. Most states post their criteria for sponsoring J waivers for physicians online. Click on the name of the states listed below to access this information.
Conrad 30 Web Sites:
DEPARTMENT OF HEALTH AND HUMAN SERVICES (HHS)
VETERANS' ADMINISTRATION (VA)
APPALACHIAN REGIONAL COMMISSION (ARC)
J Waivers for Physicians – Additional Resources