H-1B Cap Update (Fiscal Year 2012)
On November 23, the USCIS announced that the H-1B General Cap of 65,000 was reached on the previous day. The agency will not accept any new "cap-subject" H-1B filings until April 1, 2012.
The general H-1B cap is set annually at 65,000 with an advance degree cap of 20,000 for professionals who have a Master's degree or higher from a U.S. university. Detailed information is available on USCIS' H-1B Fiscal Year 2012 Cap Season web page.
The charts below tell the story in more detail. Compare this year's progress toward reaching the H-1B Caps to last year's numbers.
GENERAL H-1B CAP (65,000)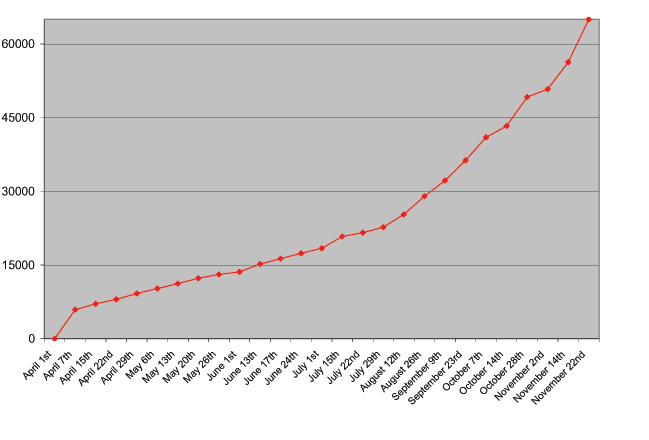 | Date | H-1B General Cap-Subject Petitions Received |
| --- | --- |
| November 22 | 65,000 |
| November 18 | 61,800 |
| November 14 | 56,300 |
| November 2nd | 50,800 |
| October 28th | 49,200 |
| October 21st | 46,200 |
| October 14th | 43,300 |
| October 7th | 41,000 |
| September 23rd | 36,300 |
| September 9th | 32,200 |
| August 26th | 29,000 |
| August 12th | 25,300 |
| July 29th | 22,700 |
| July 22nd | 21,600 |
| July 15th | 20,800 |
| July 1st | 19,000 |
| June 24th | 17,400 |
| June 17th | 16,300 |
| June 13th | 15,200 |
| June 1st | 13,600 |
| May 26st | 13,100 |
| May 20th | 12,300 |
| May 13th | 11,200 |
| May 6th | 10,200 |
| April 29th | 9,200 |
| April 22nd | 8,000 |
| April 15th | 7,100 |
| April 7th | 5,900 |
MASTERS H-1B CAP (20,000)
| Date | H-1B Master's Cap-Subject Petitions Received |
| --- | --- |
| October 28th | 20,000 |
| October 14th | 19,600 |
| October 7th | 19,100 |
| September 23rd | 17,700 |
| September 9th | 16,700 |
| August 26th | 15,900 |
| August 12th | 14,700 |
| July 29th | 13,800 |
| July 22nd | 13,300 |
| July 15th | 12,800 |
| July 1st | 12,200 |
| June 24th | 11,300 |
| June 17th | 10,800 |
| June 13th | 10,200 |
| June 1st | 9,300 |
| May 26st | 9,000 |
| May 20th | 8,500 |
| May 13th | 7,900 |
| May 6th | 7,300 |
| April 29th | 6,600 |
| April 22nd | 5,900 |
| April 15th | 5,100 |
| April 7th | 4,900 |