Employers Immigration Guide
This page is an immigration guide for employers, particularly for those who sponsor foreign-born workers for immigration benefits.
We discuss the process of obtaining temporary working visas for employees and converting these to  lawful permanent residence. Our law firm represents over 100 corporate clients throughout the United States.
We guide employers in successfully processing visa petitions through the USCIS and in obtaining the approval of PERM applications through the U.S. Department of Labor. We assist both employers and employees in the immigration green card process.
We also represent employers who sponsor employees who are persons of extraordinary ability , outstanding professors and researchers and executives and managers of multinational corporations.
We also advise employers how to comply with the Employee Verification ("I-9″) System, how to respond to "mismatch" letters received from the Social Security Administration, and how to avoid liability under anti-discrimination and "document abuse" laws. We discuss the government's "E-Verify" program in which our law firm and some of our corporate clients participate.

"I work with Merritt Hawkins & Associates, the largest physician search and consulting firm in the United States. For the past 20 years, we have relied on Mr. Shusterman and his law office to assist us in cases where we have recruited international physicians on behalf of our clients…we have found the results that Mr. Shusterman and his firm have achieved for us to be uniformly excellent.." (More client reviews…)
Our Employers Immigration Guide is divided into the following subtopics:
Related Pages:
SUCCESS STORIES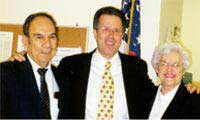 OBTAINING TEMPORARY WORKING STATUS FOR EMPLOYEES
OBTAINING PERMANENT RESIDENCE FOR EMPLOYEES
HOW TO AVOID EMPLOYER SANCTIONS
Federal law requires that all employers verify the identity and employment eligibility of all new employees including U.S. citizens within three days of hire. Employers are required to complete a Form I-9, and each employee must provide their employer with documentation establishing both their identity and their eligibility to work in the United States. Failure to follow these rules may result in civil and/or criminal sanctions against offending employers.
SOCIAL SECURITY NUMBERS AND "NO-MATCH" LETTERS
ANTI-DISCRIMINATION/DOCUMENT ABUSE
Office of Special Counsel (OSC)
Anti-Discrimination
Document Abuse
E-VERIFY PROGRAM
E-Verify is an Internet database operated by the Department of Homeland Security which allows participating employers to electronically verify the employment eligibility of newly hired employees, regardless of whether they are U.S. citizens or foreign nationals. Most federal contractors and companies located in certain states are required to participate in the E-Verify program.
EMPLOYER INFORMATION FROM THE GOVERNMENT