Department of State
Immigration Resources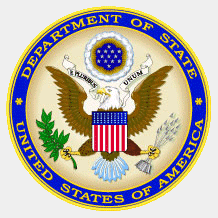 The U.S. Department of State, through its Embassies and Consulates abroad, issues millions of permanent and temporary visas each year to foreign-born persons who wish to live, study or visit the United States.
The Bureau of Consular Affairs is located within the Department of State's management office. The mission of the Bureau is to administer laws, formulate regulations and implement policies relating to the broad range of consular services and immigration. It issues the monthly Visa Bulletin.
Consular officers overseas, under the guidance of the Bureau's Office of Visa Services, are responsible for issuing all non-immigrant (temporary) and immigrant (permanent) visas. The Bureau of Consular Affairs also administers the provisions of the INA as they relate to the Department of State in coordination with USCIS and ICE within the Department of Homeland Security (DHS).

" A few years ago I had the honor and pleasure of benefiting from the unparalleled experience, dedication, and professional services provided by Los Angeles based immigration attorney Carl Shusterman. His experience as a former INS prosecutor, his keen mind, and intimate knowledge of the law were the perfect combination to prevail in what was a rather complex immigration case…" (More client reviews…)
This page is divided into the following subtopics:
Department of State
Immigration Resources
News and Reports
U.S. Passports
Human Rights
Embassies and Consulates
J-1 Exchange Visitor Program
National Visa Center