Federal Courts
Immigration Cases
Each year, thousands of immigration-related cases are decided in the Federal Courts. In the deportation context, cases decided by Immigration Judges can be appealed to the Board of Immigration Appeals and from there, nondiscretionary matters may be appealed to the appropriate U.S. Court of Appeals.
When the government fails to make a decision regarding a petition, an application or a visa for an unreasonably long time, the petitioner or applicant can request that a Federal Judge issue a Writ of Mandamus compelling the agency to take action on the pending matter.
Over the past 30 years, our law firm has won a number of significant victories for our clients in Federal Courts across the United States.
We hope that this page helps you understand the workings of the Federal Courts.

"A few years ago I had the honor and pleasure of benefiting from the unparalleled experience, dedication, and professional services provided by Los Angeles based immigration attorney Carl Shusterman. His experience as a former INS prosecutor, his keen mind, and intimate knowledge of the law were the perfect combination to prevail in what was a rather complex immigration case…" (More client reviews…)
This page is divided into the following subtopics:
SUCCESS STORIES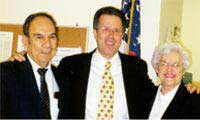 GENERAL INFORMATION
PACER
Federal Appellate Courts
Practice Advisories From The American Immigration Council (AIC)